2.40am: Good morning. It's now more than three days since the earthquake and tsunami hit Japan, but there is little sign of relief for survivors.
•  There has been a second blast at the Fukushima No 1 nuclear plant. Television footage suggests the outer building of the third reactor has been blown away – as in the first blast – but officials believe the reactor container remains intact and says there is little prospect of a significant release of radioactive material. Officials warned yesterday that there might be another hydrogen explosion.
•  The Daily Yomiuri newspaper says police are reporting about 1,000 bodies have been found in Minamisanriku, Miyagi and another 1,000 on the Ojika Peninsula coast in the prefecture.
• A very alarming tsunami warning this morning now appears to be a false alarm. Sirens along the coast sounded and television and radio alerts said officials had warned of a wave up to three metres high. The Japanese meteorological agency is now saying they believe it to be a false alarm and that there was no sign of a quake large enough to trigger a tsunami, although broadcaster NHK is apparently reporting that a helicopter pilot observed a large incoming wave.
The Guardian's Dan Chung and Jonathan Watts are reporting from the disaster zone. Their video on the aftermath near Sendai in Miyagi prefecture is here
2.50am: Japanese television earlier reported that the sea level had dropped five metres off the coast of Fukushima. The feeling in Japan is already tense following an earlier aftershock this morning, and much fear spreading across the country after unconfirmed reports of another tsunami. The Japanese Meteorological Agency says that no tsunami is expected.
3.00am: Japan's chief cabinet secretary, Yukio Edano, says a hydrogen explosion has occurred at Unit 3 of Japan's stricken Fukushima Daiichi nuclear plant. The blast was similar to an earlier one at a different unit of the facility.
People within a 12 mile radius have been ordered inside. Reports in the area say they felt the explosion 30 miles away, according to AP.
The No. 3 Unit reactor had been under emergency watch for a possible explosion as pressure built up there following a hydrogen blast Saturday in the facility's Unit 1.
More than 180,000 people have evacuated the area.
3.12am: It has now been confirmed that the reactor's inner containment vessel holding nuclear rods is intact.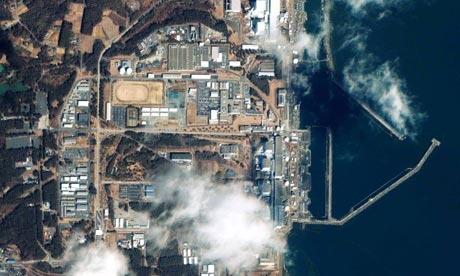 This photo provided by GeoEye shows the Fukushima Daiichi nuclear complex in Japan yesterday. Photograph: AP
TOKYO (AP) Tokyo Electric Power Co. says 3 injured, 7 missing after explosion at Japan nuclear plant.
3.45am: Chief cabinet secretary Yukio Edano has told reporters that the reactor unit appears intact and that the pressure inside the reactor has stabilised.
"I believe people who have seen the images are anxious about the situation, [but] according to the data we have been able to obtain, the containment vessel is not damaged," he added.
3.54am: More from Edano: plans to impose rolling black-outs in parts of Tokyo and the surrounding area are on hold for now. Tokyo Electric Power is asking everyone to try to limit electricity use, but will go ahead with the power cuts if that does not prove sufficient. The closure of nuclear plants has led to a drastic shortfall in supply.
But Japan's Jiji news agency says neighbouring Tohoku Electric Power is now considering black-outs.
AP reports that rail operators have suspended or reduced many regional services to try to reduce the demand for power.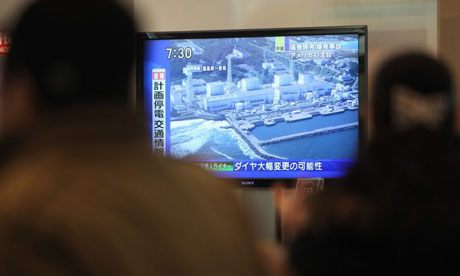 People waiting for domestic Japanese flights huddle around watching news on the Fukushima nuclear reactor at Haneda Airport,Tokyo, Japan, on 14 March 2011, after a devastating earthquake and tsunami that ravaged much of Japan's Pacific East coast on 11 March 2011. Photograph: Cory Lum/EPA
3.59am: Justin McCurry, the Guardian's correspondent in Japan' has sent this message about the mood there this morning, following the tsunami warning and second explosion at the Fukushima nuclear plant.
"The general feeling is that the danger from quakes, tsunami and radiation leaks is far from over. News of the blast came as the Nikkei stock average lost more than 4.5% in morning trading and the Bank of Japan pumped 15 trillion yen of liquidity into the financial system. There are reports of panic buying in Tokyo of items such as batteries, instant noodles and water. There is no visible exodus, but plenty of anecdotal evidence of people, particularly expatriates, leaving the Tokyo area and heading to western Japan or overseas. The combination of a large aftershock this morning, rolling power cuts, the nuclear crisis in Fukushima and another tsunami alert - which proved to be a false alarm - has set nerves jangling across the region."
Justin has written a fuller piece on the mood in Japan, which you can read here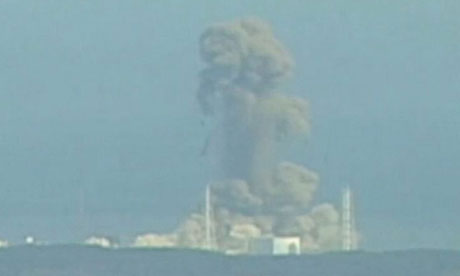 Smoke rises from Fukushima Daiichi nuclear power complex in this still image from video footage March 14, 2011. Photograph: Reuters Tv/Reuters
4.07am: Six workers were injured in the explosion at the Fukushima power plant, but all are conscious, NHK reports.
4.26am: Kyodo is reporting that many shops and manufacturers have closed in Tokyo and the surrounding area due to the power rationing. Sony has closed a facility producing industrial adhesive tape while Toshiba has suspended operations at a factory producing goods such as flat screen TCs. Other companies – such as Toyota - had already suspended operations because of their production is in the north east.
Isetan Mitsukoshi has closed all seven of its department stores in the region around the capital and Odakyu Department Store Compay and Sogo & Seibu each closed three branches.
An NHK twitter feed (@nhk_asianvoices) says the government has text-messaged citizens urging a nationwide effort to save energy.
4.45am (1.45pm JST) IEEE Spectrum has an interesting piece here on the role that rescue robots will play in operations. Unsurprisingly Japan has a lot of expertise of its own, but as their teams are deployed already the piece cites Dr Robin Murphy, director of the Center for Robot-Assisted Search and Rescue at Texas A&M University.
Dr. Murphy, an IEEE Fellow whose team has taken robots to disaster sites like the World Trade Center after the September 11, 2001 attacks and New Orleans after hurricane Katrina, tells me that robots have been used in at least one previous earthquake, the 2010 Haiti disaster. The U.S. Army Corps of Engineers, she says, used a Seabotix underwater remotely operated vehicle, or ROV, to investigate bridge and seawall damage as part of the U.S. assistance to the Haitian government.

For a disaster like the Japan quake, she says several types of robots could prove useful, including:

• small unmanned aerial vehicles like robotic helicopters and quadrotors for inspection of upper levels of buildings and lower altitude checks;

• snake robots capable of entering collapsed buildings and slithering through rubble;

• small underwater ROVs for bridge inspection and underwater recovery;

• tether-based unmanned ground vehicles like sensor-packed wheeled robots that operators can drive remotely to search for survivors.
Incidentally, if you're wondering why the time stamp has got longer, reader gaikokujin used the comments section to request we add Japanese times - we will do so from now on; thanks for the suggestion.
4.52am (1.52pm JST): According to this piece in the New York Times, a US aircraft carrier, Ronald Reagan, which is sailing in the Pacific, passed through a radioactive cloud from the Japan nuclear reactors. It is reported that the crew on deck received a month's worth of radiation in an hour.
There is no indication any of the personnel have experienced ill effects from the exposure, officials said.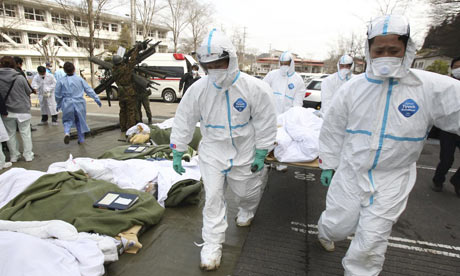 Futaba Kosei Hospital patients who might have been exposed to radiation are carried into the compound of Fukushima Gender Equality Centre in Nihonmatsu in Fukushima Prefecture (state) after being evacuated from the hospital in Futaba town near the troubled Fukushima Daiichi nuclear power station. Photograph: Daisuke Tomita/AP
5.15am (2.15pm JST): Tokyo Electric Power Company, which runs the Fukushima Daiichi plant, says radiation levels at the unit are well below the legal limits following this morning's hydrogen explosion. Radiation at Unit 3 measured 10.65 microsieverts; operators must inform the government if a level of 500 microsieverts is reached.
Health experts have stressed that the risk from radiation appears low. Reuters has spoken to the Gregory Hartl of the World Health Organisation, who told the agency:

"At this moment it appears to be the case that the public health risk is probably quite low. We understand radiation that has escaped from the plant is very small in amount."
That has not stopped people from worrying. Singaporean authorities have announced they will test imported Japanese produce for potential radiation "as a precautionary measure".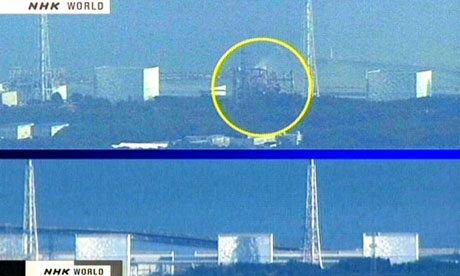 A screen grab taken from news footage by Japanese public broadcaster NHK on March 14, 2011 shows the Fukushima No. 1 nuclear power station before (bottom) and after (top) a hydrogen explosion at the number three reactor of the plant, the yellow ring in the top image shows the collapsed building after the explosion. Photograph: -/AFP/Getty Images

5.38am (2.38pm JST): This screen grab, taken from NHK, shows the Fukushima No 1 nuclear plant before and after this morning's blast.
Officials say it was similar to the earlier hydrogen explosion; The Guardian's Ian Sample has put together this Q&A to explain how that happened.
5.53am (2.53pm JST): Some links that may be useful if you or someone you know is near the disaster zone: @dailyyomiuri has tweeted links for information on English-speaking doctors and hospitals in Iwate, visit http://tinyurl.com/IwateHospitals and Fukushima - though clearly some of these services are likely to have been affected themselves.
This Google map (Japanese only) shows meal and water supplies, evacuation spots and places to charge cellphone batteries
If you're in Tokyo and trying to cut your electricity consumption, this is a guide to how much power appliances use.
6.02am (3pm JST): An update on the situation at Fukushima's second nuclear plant (ie not the one that experienced the blast this morning) from the UN nuclear watchdog, released at 4.15am GMT (1.15pm JST).
The International Atomic Energy Agency reported:
Based on information provided by Japanese authorities, the IAEA can confirm the following information about the status of Units 1, 2, 3 and 4 at Fukushima Daini nuclear power plant.

All four units automatically shut down on March 11. All units have off-site power and water levels in all units are stable. Though preparations have been made to do so, there has been no venting to control pressure at any of the plant's units.

At unit 1, plant operators were able to restore a residual heat remover system, which is now being used to cool the reactor. Work is in progress to achieve a cold shutdown of the reactor.

Workers at units 2 and 4 are working to restore residual heat removal systems.

Unit 3 is in a safe, cold shutdown.

Radiation dose rate measurements observed at four locations around the plant's perimeter over a 16-hour period on 13 March were all normal.
6.09am (3.09pm): The Guardian's Japan correspondent Justin McCurry has more information on the financial and economic impact of the disaster:
Japanese shares were heading for huge losses on Monday after the fallout from last week's deadly tsunami sent the Nikkei stock average down by more than 6% in Tokyo.

Monday was the first full day of trading since the earthquake and tsunami brought devastation to vast parts of Japan's northeast coast.

The scale of the damage is expected to exact a heavy economic toll and force the government to borrow heavily to fund the rebuilding effort. Concern is also mounting about the disaster's impact on energy supplies in the wake of serious problems with reactors at two quake-damaged atomic power plants.

The yen slid against the dollar after the Bank of Japan said it would pump a total of 15 trillion yen into the financial system to ensure liquidity for private lenders affected by the quake. The bank will inject a further 3 trillion yen on Wednesday.

Japan's automakers, electronics firms and oil refiners were among the hardest hit in Monday's trading, and saw their share prices drop by double-digit percentages.

Toyota, the world's biggest carmaker, said it would suspend all production in Japan until at least Wednesday. Nissan and Honda have announced similar measures.

The broader TOPIX index fell 7.6% and was on course for its biggest single-day loss since October 2008, when stocks nosedived after the Lehman shock.

Japan's central bank, which is holding a policy meeting on Monday, said it would closely monitor currency markets. Some analysts expected the bank to announce further emergency measures later in the day.
6.19am (3.19pm JST): China is willing to offer more help to Japan, Premier Wen Jiabao said today in his annual press conference. A rescue team arrived yesterday and Beijing has also sent relief supplies. Reuters reports:
China has set aside acrimony over territorial disputes and wartime memories to extend the hand of friendship to Japan, sending a team of rescuers to help search for survivors from the disaster, which likely killed more than 10,000 people.

"I want to use today's opportunity to extend our deep condolences for the loss of lives in this disaster and to express our sincere sympathy to the Japanese people," Wen said.

"China is also a country that is prone to earthquake disasters and we fully empathise with how the Japanese people feel now," he added.

"When the massive Wenchuan earthquake hit the Japanese government sent a rescue team to China and also offered supplies," said Wen, referring to the 2008 Sichuan earthquake that killed more than 80,000 people.

"We will continue to provide further necessary aid to Japan in accordance with their needs."
7.25am (4.25pm JST): If you've just joined us, a quick summary of the situation this morning:
• The nuclear crisis at Fukushima No 1 nuclear plant continues, with a hydrogen explosion blowing off a reactor building and injuring 11 people.
The blast at the number 3 reactor had been anticipated and was similar to the explosion seen previously at the number 1 reactor. It has not, apparently, damaged the reactor itself or the containment vessel and authorities said radiation levels were normal around it.
However, Japanese media are reporting that cooling has now failed at a third reactor at the plant (confusingly, number 2 reactor).
• Police are reporting that about 1,000 bodies have been found in Minamisanriku and another 1,000 on the Ojika Peninsula coast in Miyagi, the worst hit prefecture, according to Japanese media.
• Plans for rolling black outs in Tokyo and the surrounding area are currently suspended. Many private firms have voluntarily halted business or taken other measures to help reduce demand; although supply has been hit badly by the nuclear plant closures, it is still keeping up with consumption at present.
• An early morning tsunami alert, with sirens and broadcast warnings, turned out to be a false alarm. But authorities have warned people to remain careful as aftershocks of up to 6.2 magnitude continue to rock the north east.
• Japan has said it may deploy reservists to supplement the 100,000 troops working on rescue and relief operations, NHK reports. If so, it would be the first time they had ever been required to cope with a natural disaster.
• Shares fell sharply and the yen slid against the dollar as financial markets reopened this morning.
More powerful footage is emerging of the disaster. This six minute video of the tsunami striking a town is thought to have been shot in Kesennumma, Miyagi, which we know from earlier reports was devastated by the waves.
7.40am (4.40pm JST): A UK International Search and Rescue (Isar) team is due to join an international hunt for survivors in the city of Ofunato, about 100 miles north of Sendai on the east coast.
The group, organised by the Department for International Development, is made up of 63 UK fire service search and rescue specialists, two rescue dogs and a medical support team.
The experts arrived in Japan yesterday on board a private charter plane carrying 11 tonnes of specialist rescue equipment, including heavy lifting and cutting gear.
Roy Wilshire, the team's leader, said it had met members of the US military and was travelling in convoy to Ofunato, which has a population of around 42,000.
"There are apparently hundreds of people missing there and we are in a convoy of several hundred rescuers,'' he told the BBC.
"When we arrive we will set up our base before taking instruction from members of the Japanese fire and rescue service."
7.58am (4.58pm JST): Associated Press has a disturbing report on the conditions for survivors despite a massive relief operation.
"People are surviving on little food and water. Things are simply not coming," said Hajime Sato, a government official in Iwate prefecture, one of the three hardest hit.

"We have repeatedly asked the government to help us, but the government is overwhelmed by the scale of damage and enormous demand for food and water," he told The Associated Press.

"We are only getting around just 10 percent of what we have requested. But we are patient because everyone in the quake-hit areas is suffering."

He said local authorities were also running out of body bags and coffins.

"We have requested funeral homes across the nation to send us many body bags and coffins. But we simply don't have enough. We just did not expect such a thing to happen. It's just overwhelming."
A second account focuses on the desperate situation at a hospital in Takajo, Miyagi:

The nurses have been cutting open soiled intravenous packs and scrubbing down muddy packs of pills with alcohol to cleanse them...

"I'm sorry, we have no medicine," the staff repeatedly told a constant flow of people from the town, many of them elderly.
8.15am (5.15pm JST): A quick clarification: mjhollamby has pointed out (in the comments) that the UN's nuclear watchdog said six workers were injured in this morning's blast. However, the government revised the numbers upwards after the IAEA produced their statement.
According to Reuters, Yukio Edano - the chief government spokesman - said four personnel from the Self Defence Force and seven power plant workers were injured. One of the workers was seriously injured but remains conscious; the troops were only slightly injured and have already returned to work.
8.36am (5.36pm JST): This map created by Chris A is being shared a lot on Twitter. It purports to show the location of Japan's nuclear power facilities (although there are 55 nuclear power plants in the country, they are spread over 17 sites, according to the website of the Federation of Electric Power Companies of Japan).

View Nuclear Power facilities of Japan in a larger map
The exclamation mark (which become marks if you zoom in close enough) show the site of the two meltdowns. Thanks to @garethoconnor on Twitter for the link.

This is Adam Gabbatt taking over from Tania and Lee.
8.48am (5.48pm JST): My colleague Peter Walker writes that Japan's Research Laboratory for Nuclear Reactors is still insisting that there is no cause to fear a major nuclear accident.
An expert from the body told NHK TV's English-language service that while it was possible there would be similar explosions in the No 2 and No 4 reactor buildings at the Fukushima plant, all important safety features remained intact and plans to cool the reactors with seawater should be effective.
9.15am (6.15pm JST): Confusing reports regarding the Fukushima Daiichi plant. According to some sources Tokyo Electric Power Company (Tepco), which runs the plant, has declared that the No 1 and 2 reactors are out of emergency.
Other reports this morning suggested that the No 2 reactor had actually suffered a loss of its cooling function, with water levels at the reactor dropping. Government officials said efforts were under way at the No 2 reactor to prevent what would be the plant's third explosion since Saturday.
9.36am (6.36pm JST): A quick note from my colleague James Randerson on the "Richter Scale" – the logarithmic magnitude scale that was defined in 1935 to measure earthquakes in California. It was developed by Charles
Richter (who also happened to be a nudist) and Beno Gutenberg of the California Institute of Technology (CIT) and was originally referred to as "Local Magnitude" or ML, James writes:
Even though it was superseded in 1979 by the more uniformly applicable moment magnitude (Mw) scale the Richter scale has an amazing staying power in the public, and it has to be said journalistic, mind. In the barrage of information about the Japan earthquake numerous articles have used to the old scale incorrectly (including on occasion ours).
Scientists no longer use Richter's original methodology as it does not work for large quakes or ones where the epicentre is greater than 600km away. Science writer Ted Nield explains in this amusing piece from 2007 on the scale's staying power:
New magnitude scales that extended Richter and Gutenberg's original idea were developed as the number of recording stations worldwide increased. These include body-wave magnitude (Mb) and surface wave magnitude (Ms). Each is valid over a particular range of frequency and type of signal, and within its own parameters is equivalent to "Richter" magnitude. But because of the limitations of all three (especially the tendency to become saturated at high magnitudes, so that very large events cannot be easily distinguished) a more uniformly applicable magnitude scale, known as moment magnitude (Mw), was developed in 1979 by two other CIT scientists, Tom Hanks and Hiroo Kanamori. For very large earthquakes, Mw gives the most reliable estimate of earthquake size, and this is the measure that is always misreported as "the Richter Scale".
10.02am (7.02pm JST): The No 2 reactor at the Fukushima Dai-Ichi plant has lost all its cooling capacity, according to Japan's Nuclear and Industrial Safety Agency.
NHK World is reporting that Tokyo Electric Power Company, which owns the plant, has notified the agency of an emergency at the No 2 reactor.
This is the second emergency notice for the reactor. The utility firm told the agency shortly after the quake on Friday that the reactor's emergency cooling power system had failed.

Since then, the company tried to cool the reactor by circulating water by steam power, instead of electricity. But an attempt to lower the temperature inside the vessel that houses the reactor did not work well.

Fears of a hydrogen explosion at the vessel housing building are growing as the water level of the reactor is falling. A reaction with the steam and exposed fuel rods generates a large amount of hydrogen.
10.18am (7.18pm JST): The Australian broadcaster ABC has posted a series of before and after satellite images from around north east Japan which give a clear sense of how much devastation the tsunami caused. The viewer can slide back and forth between the before and after shots, seeing how entire towns have been swept away. See the gallery here.
10.27am (7.27pm JST): Water levels have fallen far enough to partly expose fuel rods at the No 2 reactor at Fukushima Daiichi, according to the Jiji news agency.
10.37am (7.37pm JST): Below the line Hoxtoner, who is in Japan, writes:
Just went to the local supermarket here in Sendai. NOTHING !! You have to see it to believe it. The only things I saw that were in bulk was alcohol, fags, coffee and tea and there wasn't much of that.

Other nationalities have been instructed to leave the Tohoku area. I have checked the British FCO and I don't see any such statement.

The Electric came on here in the early hours on Sat. We have water,but no gas. It's also a bad hayfever day to add on to all the tragedies and anxieties. I don't usually drink during the day yet I've decided to pour myself out a beer. Slight aftershocks and helicopters flying around as I type.
10.50am (7.50pm JST): The Guardian's science correspondent, Ian Sample, writes that the first report from Japan's Nuclear and Industrial Safety Agency this morning described a rise in radioactivity around the Fukushima nuclear power station when compared to Sunday's levels.
The highest level, at 680microSieverts per hour, was measured earlier on Monday in a direction north-northwest of the plant, the wind direction at the time. To put that level in perspective, the typical dose we receive from background radiation is 2000 microSieverts a year. So spending an hour at the monitoring post leads to an exposure equivalent to around four months due to background.

The Nuclear and Industrial Safety Agency report that at 1.10am local time on Monday, engineers had to stop pumping water into reactors one and three at Fukushima because seawater pits ran dry. Injection of water in the reactor 3 - the one that uses a plutonium mix fuel - restarted at 3.20am. They give no further details of the situation at reactor 1.
10.56am (7.56pm JST): The Guardian has posted this gallery of images from Japan.
11.03am (8.03pm JST): Kyodo News has reported in the last five minutes that the fuel rods at the No 2 reactor at Fukushima Daiichi are now fully exposed.
11.09am (8.09pm JST): Ian Sample has more on the exposure of those fuel rods at reactor 2:
The rods are usually submerged in several metres of water to stop them overheating. Water level gauges at reactors 1 and 3 also suggest that fuel rods are partially exposed, but engineers said pressure readings from the reactors conflict with this and that the water gauges may be faulty. Workers are trying to circulate seawater around all three reactors to keep them cool. Serious melting of fuel rods inside any of the reactors could block the circulation of water.
11.20am (8.20pm JST): This dramatic amateur footage, shot in various locations around north-east Japan, shows raging tsunami waves rushing over embankments and flowing into cities and towns carrying vehicles, ships and houses inland.
11.26am (8.26pm JST): The International Atomic Energy Authority website appears to have suffered amid a surge in traffic, Ian Sample has just told me. Ian says their back-up system is working fine though: you can find all their announcements on the Japanese nuclear crisis on their Facebook page.
11.38am: The Guardian will be staging a live Q&A with nuclear experts from 1pm, inviting readers to post their questions about the events at Fukushima Daiichi to a panel of scientists.
You can post your questions in advance here, and I'll link again to the Q&A when it starts.
11.48am: The Swiss government has suspended plans to replace and build new nuclear plants, pending a review of two hydrogen explosions at Japanese plants.
AP reported that the suspension affects three requests for "blanket authorization for nuclear replacement until safety standards have been carefully reviewed and if necessary adapted."
The government is considering applications for a new plant in Solothurn and replacement plants in Aargau and Bern.
The head of the Swiss federal energy department, Doris Leuthard, said she has decided to suspend the plans because "safety has absolute priority." She says she has instructed the government to study what caused the Japanese explosions in the wake of Friday's massive earthquake and tsunami.
11.57am: A press briefing in the UK, aimed at promoting the benefits of nuclear power and due to take place tomorrow, has been postponed "because it would be inappropriate given the events in Japan".
Sir David King, Director of the Smith School of Enterprise and the Environment at Oxford University, had been due to present a report entitled 'A low carbon nuclear future: Economic assessment of nuclear materials and spent nuclear fuel management in the UK', and argue the need to develop a new long term strategic nuclear plan which encompasses new build and legacy issues.
12.17pm: Radioactive steam could continue to be released from reactors at Fukushima Daiichi for "weeks or even months", the New York Times is reporting.
The newspaper says reactor operators "now have little choice but to periodically release radioactive steam as part of an emergency cooling process for the fuel of the stricken reactors that may continue for a year or more even after fission has stopped".
The plant's operator must constantly try to flood the reactors with seawater, then release the resulting radioactive steam into the atmosphere, several experts familiar with the design of the Daiichi facility said.

That suggests that the tens of thousands of people who have been evacuated may not be able to return to their homes for a considerable period, and that shifts in the wind could blow radioactive materials toward Japanese cities rather than out to sea.

Re-establishing normal cooling of the reactors would require restoring electric power — which was cut in the earthquake and tsunami — and now may require plant technicians working in areas that have become highly contaminated with radioactivity.
The newspaper quoted a senior nuclear expert in Japan as saying "under the best scenarios, this isn't going to end anytime soon".
The New York Times also has this excellent interactive explaining how a reactor shuts down.
12.28pm: NHK World reports that "a core meltdown might have occurred" at reactor 2, Fukushima Daiichi.
The Nuclear and Industrial Safety Agency has tried to circulate the coolant by steam instead of electricity, but NHK reported that attempts to lower the temperature inside the reactor chamber have not worked well.
NISA is reportedly also considering opening a hole in the reactor housing building to release hydrogen generated by the exposed fuel rods.
12.36pm: My colleague Luke Harding is live blogging from the Hamburg offices of Der Spiegel as part of the Guardian's New Europe season, and reports that the German news magazine has decided to pull its reporter out of Tokyo because of the risk of a Chernobyl-style radiation cloud reaching the Japanese capital.
Thilo Thielke, Spiegel's veteran war correspondent, is leaving Japan today. Spiegel is now covering the story from Bangkok and the south of Japan. Mathias Müller von Blumencron says the latest information is ominous: the wind is blowing to the south – in the direction of Tokyo. "Perhaps this is a piece of German angst. But no country is more against nuclear power than Germany," he says. He adds: "The wind is shifting from the north and could blow a cloud south directly to Tokyo. This is really horrible. I think this is a big, big crisis and a wake-up call for nuclear energy." The German embassy is also making preparations to evacuate some staff, apparently.

12.57pm: Hello, this is Haroon Siddique, taking over for a while to give Adam a break. Our Berlin correspondent Helen Pidd has sent an interesting update relating to steps being taken in Germany concerning the country's nuclear programme in response to events in Japan:
Germany's chancellor Angela Merkel is expected to announce the suspension of plans to extend the life of its nuclear power stations later today.

In the light of the Japanese disaster, Merkel has decided to re-examine her highly controversial decision last year to renew Germany's nuclear plants, the German media is reporting.

Government sources have told FOCUS online that Merkel took the decision on Sunday night after a crisis meeting at the Berlin headquarters of her Christian Democratic Union (CDU) party.

She is expected to confirm the suspension today at press conference at 4pm local time (3pm GMT) with her foreign minister, Guido Westerwelle.
1pm: There have been 38 earthquakes in or around Japan today alone, according to the US geological survey. The most powerful recorded today so far was 6.1 in magnitude.
1.35pm: Here's a summary of events so far today:

• A "core meltdown" might have occurred at reactor 2 Fukushima Daiichi. NHK World reports, as fears grow over the safety of the nuclear plant continues. Fuel rods are reportedly fully exposed. The nuclear and industrial safety agency (NISA) has tried to circulate the coolant by steam instead of electricity, but NHK reported that attempts to lower the temperature inside the reactor chamber have not worked well. NISA is reportedly also considering opening a hole in the reactor housing building to release hydrogen generated by the exposed fuel rods.
• A hydrogen explosion at the number 3 reactor at the Fukushima No 1 nuclear injured 11 people. The blast had been anticipated and was similar to the explosion seen previously at the number 1 reactor. It has not, apparently, damaged the reactor itself or the containment vessel and authorities said radiation levels were normal around it.
• Police are reporting that about 1,000 bodies have been found in Minamisanriku and another 1,000 on the Ojika Peninsula coast in Miyagi. Miyagi has been the worst hit prefecture. Video footage is continuing to emerge revealing the force of the tsunami that swept into north east Japan.
• Plans for rolling black outs in Tokyo and the surrounding area are currently suspended. Many private firms have voluntarily halted business or taken other measures to help reduce demand; although supply has been hit badly by the nuclear plant closures, it is still keeping up with consumption at present.
Other countries have been reviewing their nuclear programmes in the light of events in Japan. Switzerland has suspended plans to replace and build new nuclear plants and Germany is expected to is expected to announce the suspension of plans to extend the life of its nuclear power stations later today.
1.58pm: This is Adam Gabbatt again, this blog is now closed, but we've set up a new live blog to cover the rest of the day's events: read it here.